Careers: Tattooed Make-Up Artist
We chat to 26-year-old Charlotte Amy Tompkins, Make-Up Artist at Urban Decay based in Chester, about her incredible tattoo collection and personal style…
I was 17 when I got my first tattoo, a small red bow on the bottom of my back in Blackpool. God knows how I even managed go get it! I look so young now, think what I looked like at 17? Thankfully it's since been covered by my on-going back piece – which I need to get finished! At the minute I'm filling my gaps pretty slowly, but I want to get started on a stomach piece soon too.
I've always loved tattoos, I never used to like colour tattoos for some reason, but now look at me! Having my tattoos is such a boost, I love having them on me as they are a part of me and will be forever. My tattoos are mainly of animals and roses – you can't beat a good rose! I absolutely love animals and roses are my favourite flower.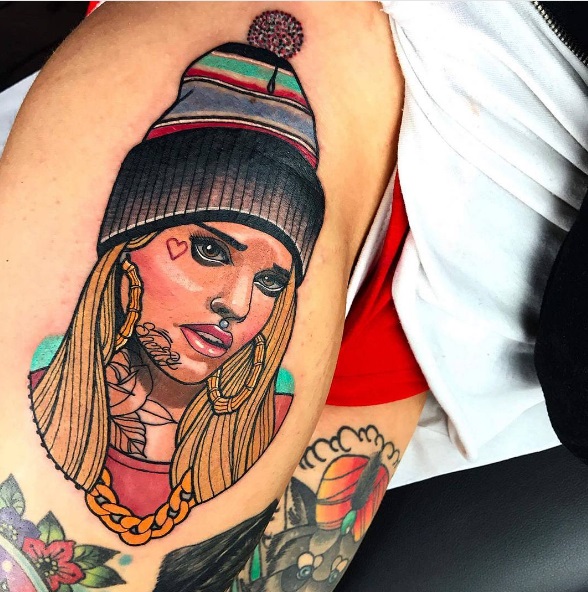 Tattoo by @gibb0o
I get a lot of mixed reactions from people when they see my tattoos, they either go one or two ways. I get stared at rudely, some people shake their head in disgust too. I was once on the bus back from work and behind me were two elderly ladies talking about how have I even got a job and I should be ashamed being a lady covered in tack!
But when I'm at work I get amazing compliments and most are from women aged 50 or over, who are so interested and just wowed by my look, which is amazing. Kids love them too, they're attracted to the colours, I had a little girl who was shopping with her mum recently, who got her mum to tell me that she thought I was beautiful with my tattoos and hair. It's the little things that make me smile, but some people really hate tattoos for no reason really. But I love my skin thanks to all the amazing tattooists out there!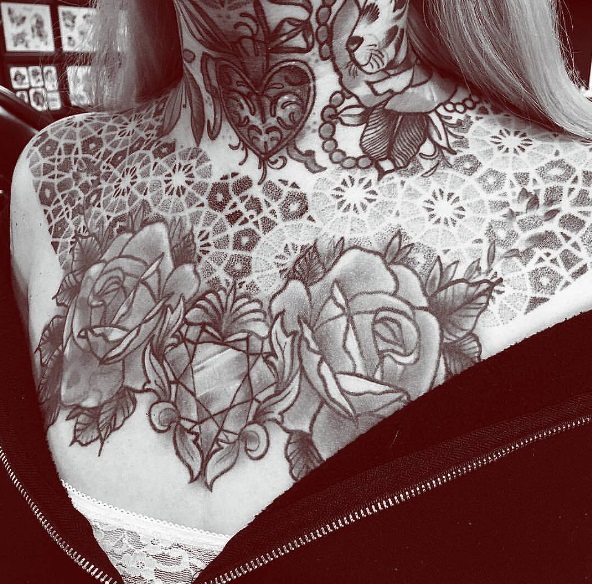 Chest and neck tattoos by Paula Castle, Ash Boss and Jody Dawber.
I landed my current position at Urban Decay out of pure tenacity, I just kept going back after handing in my CV and eventually I got through three stages of interviews. I worked in a coffee shop before, I enjoyed it but it wasn't what I wanted to do career wise.
I'm really lucky that as a make-up artist and working for Urban Decay my job let's me be myself. I would have gotten my more visible tattoos done eventually regardless, as they are a part of me now, but my job does help. I love how they look and how pretty they are. For those wanting to get more visible tattoos I would think really hard about what you want in the long run and think about how it will effect work first. As I said I'm lucky!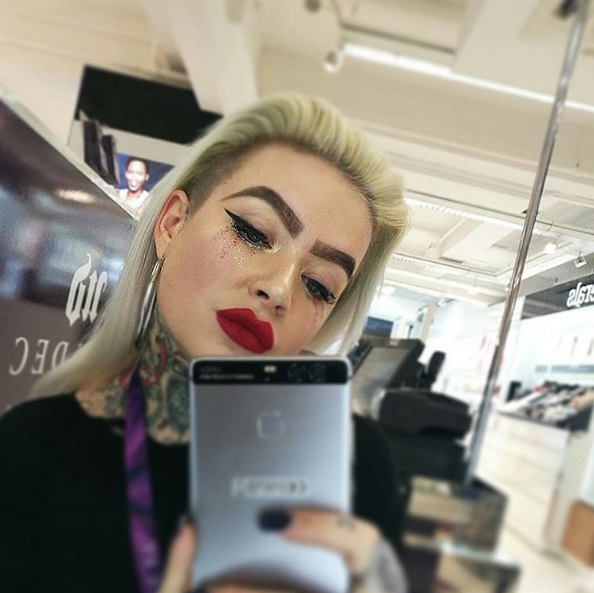 I'm vegan, and I love that I work for a brand that is cruelty free, I love what they stand for. My typical day depends on my customers, I always sit them down to get to know them and find out what it is they want. At Urban Decay we love showing the off products and having a play, we want everyone to feel good about themselves and raring to come back and try more!
Urban Decay love people being themselves so hell yeah I dress how I want. My style is definitely different, a little quirky maybe a bit weird. I love black but I also liked having coloured hair, big earrings and platform shoes. Of course my tattoos are usually on show as they're hard to hide!