The Limerick International Tattoo Convention 2017
Guest writer Harry Casey-Woodward (who is still a tattoo virgin) recently attended the Limerick Tattoo Convention on 25th March with his wife, this is what they got up to…
Tattooist @marcinchtattoo working at the convention
The convention I went to in Limerick, Ireland, is the second tattoo event I've ever been to. My first was last year's convention at Brighton (read my thoughts here). Last Saturday, I was accompanying my wife to Limerick, as she was getting her first convention tattoo done by Magda Hanke, a tattooist she's admired and stalked on Instagram for some time.
Outside the convention
Electric Soul Tattoo Shop from Cork had some cool art work on sale
The convention was at the South Court Hotel from 25th to 26th March. After spending a day in Limerick, it certainly didn't feel like a centre for alternative culture. As lovely as the town is, on the surface there's museums, pubs, a castle, and not much else.
@Astintattoo creating a realism portrait
The bagpipe player
The event itself was about a quarter of the size of the Brighton event (although after learning that Brighton is one the biggest tattoo conventions in the world, I realised every event is going to be smaller). There were just four rows of stalls packed in to one big room, but there was lots to see.
Keelin Cor getting ready for her next client
I loved all the different designs on these skateboards
There were a hundred artists, all with impressive and varying styles. Entertainments included a bagpipe player (who tested my wife's patience while she was under the needle). My favourite performer was Sideshow Ramone, a magician who knew how to amuse his audience while jumping on glass, sword swallowing and struggling out of a straitjacket. The show was hosted by alternative model Bernadette Macias, from LA, who was roped into helping Ramone with a scary trick involving flowers and a whip.
There were so many talented artists everywhere
My favourite performer Sideshow Ramone
What I liked best about the event (apart from the food) was its warm, friendly atmosphere. All ages were welcome from ink veterans to families with kids, even though people were getting their bare skin stabbed with needles left, right and centre.
There was even a barber at the convention
There was face painting and even a stall for Limerick's suicide watch. Whether they thought people with tattoos were likely suicide cases, I don't know. There was even a barber. This fun and friendly event surely confirmed that tattoos aren't the devil! All in all we had a wonderful time, my wife got a tattoo that she loves and I got to see another side to Limerick.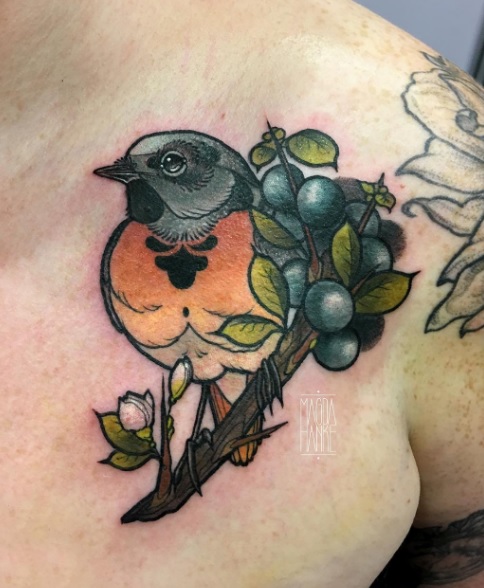 My wife's tattoo by @magda_hanke